Vembu BDR Suite 4.1 brings some new features which we'll talk about today. If you don't know Vembu Backup and Disaster Recovery Suite you can check one of our older articles or the Full product review here: Vembu BDR Suite 4 Product Review.
Vembu BDR Suite can backup virtual and physical environments running VMware vSphere, Microsoft Hyper-V, KVM or physical servers with image-level backup. There is a single web-based console to manage the solution so no extra software installation is necessary and you can access it from anywhere and form any OS.
With large VMware infrastructures, the need for distributed backup is here. Now with VMware proxy you are able to offload processing from the Vembu BDR Server onto these dedicated processing nodes for your VMware backups. This will obviously improve the scalability and performance of the Vembu BDR Suite solution.
With Vembu you can setup Offsite backup where after the completion of every successful backup in local backup server, there is a backup copy from the local backup server to Offsite DR server. You can install Vembu BDR suite on Windows or Linux.
Vembu BDR Suite 4.1 New Features:
Image Integrity Check – you can schedule it to check and to confirm the recoverability of the backup data. It is customizable and can be easily configured from the UI.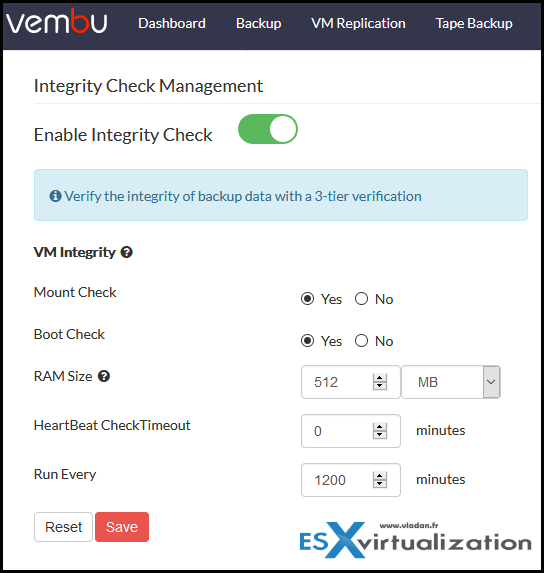 RCT for Hyper-V backup – Hyper-V VM backup now uses Microsoft's native RCT(Resilient Change Tracking) to track changes in a VM disk (VHD/VHDX) (Only for Windows Server 2016 & above)
Application-aware processing – of Oracle databases running on VMware VMs is now supported to ensure the consistency of the database
Vembu Proxy Agent for VMware Backup – Backup proxies are now helpful in distributing the workloads and scale the backup infrastructure. Also, It handles the data traffic between VMware vSphere and Vembu BDR Server during the backup
Support for SOFS (scale-out file server) – Backup support for the VMs data residing on the Hyper-V scale-out file server(SOFS)
Exclude System Files – Pagefile.sys & Hyberfil.sys can now be excluded from all image-based backups such as VMware, Hyper-V, and Windows image backup.
If you want to have a look for features we picked up we think that are useful in every environment. Think of portability and security. With tape based backups you can physically separate the location and media where you backups are stored to not end in a situation with "all eggs in the same basket".
There are most of the features which you'd be looking in a backup software like Vembu BDR:
Quick VM recovery on ESXi – previously, quick VM recovery was available for Hyper-V only. Now the recovering the backup data as a virtual machine happens in a matter of seconds by booting the backed up machine directly from the storage repository on any hypervisor of choice like Hyper-V or VMware ESXi or KVM.
Native Tape Support – You can now implement more backup strategies as tape adds an additional media type to already supported disk. Tapes are still best for long-term archiving. You can backup directly to tape or transfer the latest full backups to tape on regular basis.
Backup Encryption – you can now encrypt your backups on a per-job basis. After defining a password, you'll be able to select this password during new job creation wizard or create also a new password for a specific job. Full and the incremental data of backups will be encrypted with AES-256 bit encryption algorithm. During a restore operation, you'll be prompted to enter the encryption password.
Interesting Features:
Advanced Reverse Incremental with Any-Point-In-Time Full – Since every incremental is a self-sufficient snapshot with pointers to the blocks in VHFS, any incremental is instantaneously available as a full backup. There is no extra processing to restore an incremental backup compared to a full backup (no need for a merge).

Restore VMware, Hyper-V and Physical Windows Disk Image Backups in VHD, VHDX, VMDK, Flat-VMDK and RAW formats – Since VMware, Hyper-V and Physical Windows Disk Image backups are stored at block level in a neutral format, Vembu BDR Suite makes it possible to instantly restore any incremental backup in any virtual disk format including VHD, VHDX, VMDK, VMDK-FLAT or IMG.
The backup server itself can be installed on Windows system or on Linux. (Ubuntu supported). You'll need 8Gb of RAM. Vembu supports latest VMware vSphere, Hyper-V, and KVM.
Vembu Universal Explorer Tool – Vembu Universal Explorer recovers application items from Microsoft Exchange, SharePoint, SQL and Active Directory without restoring the entire VM backup and disk image backup.
How is Vembu storing backups?
You can aggregate local storage and create a large storage pool. Storage Management option lets you manage and configure drives into separate storage pools for storing the backup data. Vembu BDR has a new file system that halts backup for nothing and once the storage pool gets filled, you can extend the storage by using the edit option.
New volumes can be added to an already created storage pool as well. The hybrid volume manager of Vembu BDR Server supports scalable and extendable backup storage for different storage media such as Local drives, NAS(NFS and CIFS) and SAN(iSCSI and FC). Vembu BDR provides storage pooling option for both backup level and group level.
Screenshot from the lab… Add both volumes to a storage pool. Only local volumes in this example.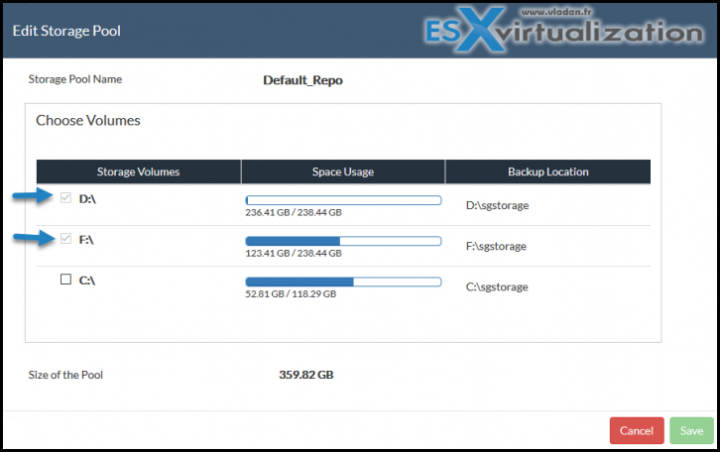 Different Software Editions
Enterprise Edition – This edition is for medium and enterprise business users providing basic functionalities along with extended options such as Tape Backup support, VM replication, Persistent boot, advanced GFS retention etc.
Standard Edition – does not have advanced GFS, replication, automated backup verification or native tape support.
Free Edition – Free edition provides users the option to utilize unlimited features up to 3 VMs and then users can backup unlimited hosts with limited features.

To know more about the difference between Free, Standard, and Enterprise edition, check this page here.
Links:
Other posts about Vembu Technologies:
VMware vSphere 7.0 coverage on ESX Virtualization
You might want to check our Free Tools page where you can find VMware utilities, but also utilities for Microsoft systems or other "Swiss Knife" software there.
Stay tuned through RSS, and social media channels (Twitter, FB, YouTube)